CHAPTER FIVE




INTRODUCTION TO ADVANCED CIVILIZATIONS








DEVELOPMENTAL EXAMPLE FOR AN "N6" CULTURE
In this discussion,
we are going to make up a sample working society and study it. We will discuss various points in a theoretical way that are applicable to all social orders.
SET
Let us construct a table - of wood with a top composed of many strips (planks) of wood. The table stands 4 feet tall. On the table is a pitcher of milk. Under the table are the people who will be in our new society.
FIRST CAUSE
To initiate our social order, we will tip the pitcher over on its side and allow the milk to spill on to the table and drip down through the cracks in the boards.
PROGRAMMING THE "PURPOSE OF LIFE"
We need to give our citizens a purpose for their existence. Therefore we will proclaim that the purpose of life in our society is to determine where the milk is coming from.
LAW
Now, we must stabilize our society with law. Otherwise, it will collapse. Therefore, we now proclaim:
LAW: IT IS ILLEGAL TO LOOK MORE THAN THREE FEET ABOVE THE GROUND
LAW: ANYONE WHO LOOKS MORE THAN THREE FEET ABOVE THE GROUND WILL BE EXECUTED
Now, our society is working and stabilized. Since no one can look more than three feet above the ground, they can never determine the answer to the purpose of life (where is the milk coming from) and so the people will spin helplessly in circles throughout time.

INTERNAL SECURITY

Visitors

What of the possibility now of outsiders coming around. Being from outside our society they can easily see where the milk is coming from - if they enter the society and tell the truth they will destroy our social order. This must be prevented so we now invent "Security Clearance". Anyone coming in from the outside must swear never to talk about what they have seen - the pitcher of milk on the table. If they will not swear they have two choices:

1. Do not enter our society and 2. Be executed immediately upon entering our society.


Internal Non-conformers I Secret Groups
57
Now it is brought to the attention of the leaders that there are some people who have looked beyond three feet above the ground and have seen the table top and the milk. However, no one saw them when they did this and they do not talk openly about what they saw. They have formed a secret club called the "Order of TRUTH" and they discuss what they know only in secret meetings where no one can observe them.
In public they behave like everyone else and proclaim that they are trying to find out where the milk is coming from. Now we know that they have the forbidden knowledge, but since they won't admit it publicly and keep to themselves, and represent a small percentage of our society, the decision is made to ignore them and take no action.


EXTERNAL SECURITY

There are other societies in existence. We do not tell the citizens this, but we know of it. They think we are silly and that our people should be "liberated" by being informed of the truth. We must deal with them, because they are a threat to all we have worked so hard to create.

We must form an army. The members will have to be told things the general citizens do not know. We need to establish a security clearance system to handle the army people.

The system we establish will work like this:
1. Secret Clearance: Knowledge that things exist more than three feet above the ground and that there are others in existence not in our society. These "others" are the enemy and must be controlled. If they can't be controlled, they must be killed because the "national security" is at stake and must be protected at all cost.
2. Top Secret Clearance: knowledge about the table and the spilled milk. Knowledge about why the public must be kept in darkness for the stability of the society. Knowledge that the "enemy" is really probably right and we are "silly people" - but we rule here and we can't be rulers anywhere else. We provide and care for our citizens - it's our thing to do this - and we love the feeling and sexiness of the power we have and we do not want to lose it. Special consideration for those granted Top Secret clearance to keep them loyal such as more pay, better food, and exemption from the law that we made up for the regular people.
Now we have an army in place and we can go out and kill the other societies that are trying to destroy our society.

We can alternately simply show force, and enter into secret treaties with the other societies that they will not interfere.
58
HOUSEKEEPING: INTERNAL DISSENT & PROPAGANDA
Now we learn that - although not overtly disobedient. to our laws - there is a growing number of citizens that just do not believe what we have told them. They are not breaking the law and looking over three feet above the ground. But, they somehow sense that things are not right and these feelings will not let them have peace.

Therefore we must now invent "Mental Illness" and "Rehabilitation and Treatment Programs". First, we need to agree on the party line propaganda which will be transmitted to all citizens. Let us now send the following message out:
CITIZENS: ARE YOU UPSET FOR NO REASON-- TROUBLE SLEEPING

WE WANT TO WARN YOU ABOUT MENTAL ILLNESS

BECAUSE THIS IS WHAT YOU, OR SOMEONE YOU

KNOW MAY HAVE. RECENTLY THERE HAVE BEEN

REPORTS OF SEVERE DELUSIONS WHICH OUR SCIENTISTS

HAVE DETERMINED IS "MILKMANIA". THESE POOR

AFFECTED PEOPLE ACTUALLY BELIEVE THAT THEY

ARE LIVEING IN A CONTRIVED WORLD AND THAT

THE GOVERNMENT IS BEHIND THE DRIPPING MILK

AND THAT THEIR LIFE IS AN ILLUSION. OF

COURSE, THIS IS ABSURD. SO IF YOU KNOW

OF ANYONE THINKING THIS WAY, NOTIFY THE

NEAREST GOVERNMENT OFFICIAL AND THAT PERSON

WILL RECEIVE THE BEST CARE OUR SCIENTISTS

CAN PROVIDE.
Now we have established the party line. We need to build some holding areas that we will call "hospitals". And, we need to figure out what to do to the people who have innocently become too smart to be allowed to stay in our society.

We decide two things:
1. If we pick up someone who is not really opposed to us but has figured out the truth somehow, we could just give that person "Top Secret" clearance and let him work for us as a member of the "in crowd".
2. If this is not practical, then we will brain damage the person so he can not do anything coherently and then let him go as "rehabilitated". He will be so silly and confused that it will not matter what he says because no one will believe him.
THAT DOES IT

We now have a stable, working society that is guaranteed to last as long as we want it to, so long as we maintain the constraints that have been discussed above.
59
THE IGC REGULATIONS
[FOR ADVANCED SOCIETIES]
If the Planet Earth survives into the next century, it will have likely have passed its last "crisis" period and,. sooner or later, it will find it necessary to join IGC in order to get its N3 rating and initiate deep space travel.
These are some of the main regulations that the government of the Earth [or an association of the governments of the Earth if the planet is still fragmented] must accept at that time:
DEFENSE
Planets are allowed to possess surface based defense systems. However, they are not allowed to place in orbit above their planets any destructive device which has any potential to harm visiting spacecraft. Planets with spacecraft may possess defensive weapons on their craft.
RIGHTS OF CITIZENS
Governments may not interfere with the right of any human being to live in accordance with GOD's Plan or with his right, as a human being, to seek to return to GOD.
MEDICAL PROHIBITIONS
Abortion is a violation of GOD's intentions and is not permitted. There are exceptions which are determined by the Law of Karma. For example, killing a baby is wrong and earns one bad karmas. But, deliberately bringing a "beast" into the world is also wrong and earns one bad karmas. In a case of violent rape the emotions of fear and hate generally guarantee that the child born from such a situation will be so messed up that it will be less than human [i.e., a beast]. Common sense judgments in cases like this are permitted. IGC regulations are not designed to be so rigid that wise, knowledgeable people acting with good intentions and common sense are "forced by IGC" into awkward situations.
The manufacture and distribution and use of DRUGS THAT
HAVE ANY POTENTIAL TO INTERFERE WITH A PERSON'S SPIRITUAL
PROGRESS is prohibited. All psychiatric medications and
most street drugs fall into this category.

SAFETY

Member planets must keep their planet clean and safe. People committing violent crimes and doing other things generally accepted to be "wrong" must be picked up and kept out of the general population.
60
OFF-PLANET [SPACE] ACTIVITIES

Member planets may freely visit other member planets with N3 ratings. They may also freely visit planets with N0 ratings but only at the pleasure of the planet administration. [N0 planets are Spiritual Cities and it is their discretion as to weather they want to entertain less advanced people]

Member planets may not visit N6 planets unless they are participating in a logged and approved IGC Observer Team. The chance to participate in such a team is an exciting opportunity for mature adults with expertise in areas such as psychology, biology and botany, and the necessary support sciences like Engineering.


In all interactions between member planets, individuals are expected to be polite, open, and exercise good common sense. Member planets are not allowed to go to any other member planet unannounced or to carry out any covert activities there. Most planets have an automatic death penalty for this and are within their rights to use it at their discretion.


QUALITY OF LIFE

Member planets must promise that, to their best ability, they will program plans for their future that will be in compliance with GOD's Plan and will encourage the positive evolution of all citizens.


ISN EQUIPMENT

IGC will provide and maintain the necessary devices on a member planet to enable that planet to have communication links with IGC Command and all other member planets.

This equipment, called Inter-Spacial Net equipment allows for transmission and reception of data without regard to time-delay. It is essentially what the Si-Fi guys have been calling "subspace communications".


SECRECY

Legitimate planetary administrations may keep some information relating to their internal security needs secret from the general population. However, the wholesale censorship and "butchering" of the knowledge of the various Arts and Sciences- as is presently practiced on Earth- is not allowed and must be stopped. Governments have an obligation to their citizens, through their educational system, to give them, to the best of their ability, accurate knowledge. Ego-related secrets, such as altering history textbooks to make yourself "look good" when this is not the case should also be revised to reflect an accurate presentation of the known history of the planet.
61
ADVANCED CIVILIZATIONS



There are several qualities that Advanced Civilizations have that the present population of the Earth planet do not have. These are:
1. An understanding of the true nature of GOD's PLAN.
2. An understanding of the Law of Karma
3. TEXT KNOWLEDGE
The addition of these qualities to a civilization makes a big difference and changes it from a race of heathen barbarians into a race of healthy, balanced, normal human beings.
This data is suppressed deliberately on the Planet Earth by its present evil rulers in order to maintain the population in a state of darkness and confusion for the selfish purposes of the leaders who consider the humans on the Earth to be "their private herd of cattle".


If the citizens of the Planet Earth expect to survive on the Planet Earth into the next century, they MUST remove these people from power. Otherwise, the Planet Earth will be dissolved and the souls relocated to other suitable physical planets to continue their evolution.
62
THE DEFINATION OF A LEGITIMATE ADULT HUMAN



In the advanced civilizations that coexist with us in other parts of the Physical Universe, there are "human beings". These Humans are not like the "humans" on the planet Earth who generally behave like animals. They are for real Human Adults. Before the Earth Planet can be granted an N3 rating and join the association of advanced races [IGC], a reasonable percentage of the population of the Earth must be mature adults. This is the definition of what a mature Adult human being is: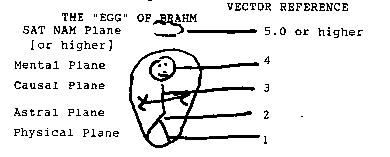 The human form is a reflection [microcosm] of the Universe System. This is why it was special to GOD and he called humans his GRANDEST CREATION. Humans are considered to be the "image of GOD" because they mirror, as a reflection, all the universes in the System of Universes created by GOD.
A man [or woman], standing straight up, conforms to the diagram above and "cuts across" all of the planes of existence.
His soul is in SACH KHAND [or one of the higher Spiritual Planes]. His MIND has merged back into its source which is the Universal Mind on the fourth vector. His Causal Body is clear of karmas. His Astral Body is emotionally balanced. And, his Physical Body is healthy.
This is what Humans are supposed to be. This is GOD's Plan for them. These are HIS true intentions for the Human Race.
Earth people are presently pretty messed up. In fact, they are the most screwed up group of humans in the entire Physical Universe and that is why many spacecraft from other worlds have visited here to simply "look around". Their equivalent of Psychologists and Social Workers have never seen such "fucked up" people before and this is why they come here to do research.
The inhabitants of the planet earth are legitimate Human beings by definition. Some of them are fully developed, but most are not. This is a rectifiable situation, however, and could change in very little time. The human population
of the Earth are presently in an "artificially created" state of deep sleep due to propaganda. They are really ready for a N3 rating. So, if the Government changes its ways and gives them a "fighting chance", they will be OK shortly.
63
TEXT